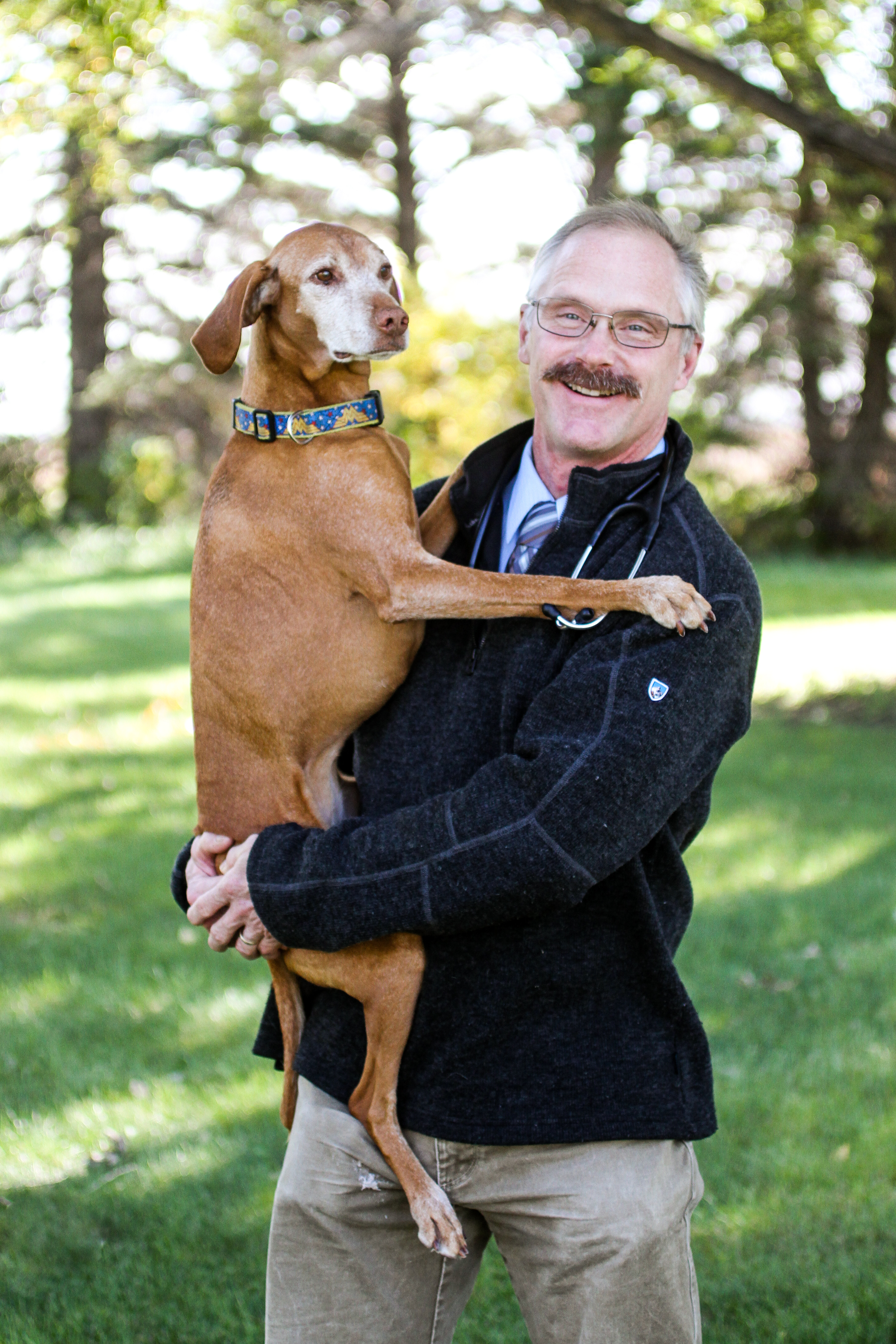 Veterinarian / Owner
Education: North Dakota State University, Iowa State University
Hometown: Wheatland,ND
Pets: Jack and Emma
Dr. Brad Bartholomay graduated from Iowa State University in 1990. He prepared for veterinary school by attending North Dakota State University from 1983-1986. He was a member of the Army Reserves as a medic and later as a veterinarian in the ND Army National Guard. Dr. Bartholomay joined Casselton Veterinary Service after graduation and became part owner in 1992. Dr. Bartholomay has furthered his education by attending an acupuncture course from 1999-2000 through IVAS (International Veterinary Acupuncture Society). He also has attended Options for Animals Animal Chiropractic course (2002-2003), IVAS Herbal courses in 2001 and 2004, and a course through American Veterinary Chiropractic Association in 2003. He is certified in acupuncture, chiropractic, FAKTR (functional and kinetic treatment with rehab), Chinese medical massage (Tui Na), and Chinese medical food therapy. Dr. Bartholomay is a member of many professional organizations including:American Academy Veterinary Acupuncturists (AAVA), American Veterinary Chiropractic Association (AVCA), International Veterinary Acupuncture Society (IVAS), American Veterinary Holistic Medical Association (AHVMA) and is a board member of the North Dakota Veterinary Medical Association (NDVMA) Most of Dr. Bartholomay's cases are reserved for acupuncture and chiropractic patients including cats and dogs. While he is kept busy with these patients he continues to perform surgeries and enjoys advanced ultrasound and CT diagnostics. He has many referrals from all over ND and eastern MN.
Dr. Bartholomay has been a board member of the Casselton Ambulance for over 15 years. Dr. Bartholomay and his wife Debbie have three grown children Melissa, Jessica and Derek. They also are kept busy with "Jack" a DSH cat and a Visla, "Emma".
In his free time, Dr. Brad enjoys Qi gong, Tai chi, yoga, reading, gardening, lake time, canoeing, and biking as well as spending time with his children and grandchildren.