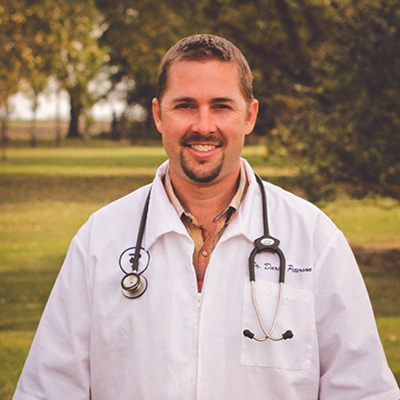 Veterinarian / Owner
Education: SDSU, Ross University, Texas A&M University
Pets: Dog: Willow, seven horses, goats, cattle and Elmer the miniature donkey.
Dr. Darin Peterson was born and raised on a horse and cattle ranch in Rosholt, SD. He attended SDSU receiving a Bachelor's of Science degree in Animal Science. Dr. Peterson worked for Fort Dodge Animal Health developing animal vaccines and then went on to Veterinary School at Ross University. He completed his final clinical year at Texas A&M University, and after graduation began his career at Casselton Veterinary Service. Dr. Peterson is a member of professional organizations including the American Veterinary Medical Association (AVMA), American Association of Equine Practitioners (AAEP), American Academy Veterinary Acupuncturists (AAVA), American Veterinary Chiropractic Association (AVCA), North Dakota Veterinary Medical Association (NDVMA), Minnesota Veterinary Medical Association (MVMA), and South Dakota Veterinary Medical Association (SDVMA).
Dr. Peterson has furthered his knowledge in complementary and alternative therapies. He has completed the Animal Chiropractic Course; Options for Animals, and is certified through the international Veterinary Chiropractic Association. Dr. Peterson attended the Chi Institute of Traditional Chinese Medicine and is certified in animal acupuncture. Please visit with Dr. Peterson regarding his Fear Free veterinarian certification as well (Advocate for the fear free veterinary visit).
Dr. Peterson enjoys working with all species, large and small. A majority of Dr. Peterson's time is concentrated on improving the overall health, quality of life and comfort of his patients and supporting their humans. The most humbling and rewarding experiences are making patients in pain become pain-free and those paralyzed be able to walk again.
In the equine world he stays busy with reproduction services, advanced dental care, internal medicine, many surgeries, including colic surgery, and sports medicine/ lameness evaluations along with acupuncture and chiropractic care.
Dr. Peterson and his wife, Andrea, are proud and busy parents to their daughters Quinn, Alaina, Juliet, Paige, Demi and Josie.